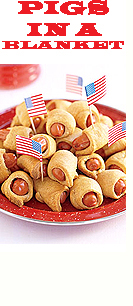 MAKES: 8 servings READY IN: 25 minutes

1 (8 oz.) can Pillsbury Refrigerated Crescent Dinner Rolls
24 fully cooked cocktail wieners or sausages


Preheat oven to 375 degrees

Grease a cookie sheet. Open package of crescent rolls and unroll dough. Separate into 8 triangles. Cut each triangle into 3 smaller triangles. Place a wiener atop shortest side of triangle and roll up to opposite point of dough. Repeat until all wieners are wrapped in dough. Place all, point side down, on prepared cookie sheet. Bake for 11-15 minutes or until golden brown. Remove immediately from cookie sheet. Serve with ketchup, cocktail sauce, or honey mustard sauce made by mixing equal parts of Dijon mustard and honey.