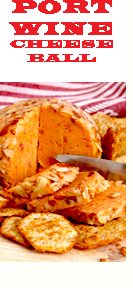 MAKES: 1 cheese ball READY IN: 1 hour, 15 minutes

2 (8 oz.) packages cream cheese, softened to room temperature
4 tablespoons Wispride or any other spreadable port wine cheese
3 teaspoons parsley, chopped
black pepper and garlic powder to taste
toasted chopped walnuts or pecans, or toasted sliced almonds for covering finished ball

Cream port wine cheese and cream cheese together well. Add pepper, garlic powder, and parsley and remix until spices and parsley are evenly distributed throughout cheese mixture. Shape into a ball, roll in chopped or slivered nuts, and refrigerate for at least 1 hour.